Quality and Safeguarding Officer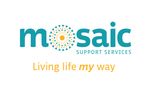 Location: Hobart
Company: Mosaic Support Services
Full Time
Mosaic is now looking for a Quality and Safeguarding Officer to join our team for the next six months. 
Firstly, let us tell you a little bit about Mosaic Support Services…
At Mosaic Support Services we stand by our Mission of enriching and improving the lives of people with a disability and their families by providing a suite of quality tailored programs.
By living and breathing our Values it enables us to attract and retain high quality employees who in turn enact our Vision to enable our clients to live life My Way.
What are our Values? Glad you asked!
Listen with heart
Challenge expectations
Achieve dreams
Celebrate life
Now that you know a little bit about Mosaic… here is a bit about the role…
 The Quality and Safeguarding Officer will be responsible for reporting and monitoring aspects of Mosaic's compliance obligations. Reporting to the Senior Quality and Safeguarding Officer, the Quality and Safeguarding Officer will contribute to ensuring quality and compliance requirements for Mosaic are adhered to and maintained. 
To be considered for the role you will need;
Strong working knowledge of the NDIS Quality and Safety Commission framework and related compliance requirements for the organisation;
Proven ability to review the client accident and incident reports on a daily basis, undertaking initial assessment of incidents and escalating incidents as and when required;
Good analytical and problem-solving skills with the ability to prioritise the needs of the client;
Proven ability to collaborate effectively with relevant stakeholders; and
An eye for detail and the skills to juggle a variety of tasks to meet set deadlines.
If all of the above sounds like you, then please hit the apply button!
If you have any questions about this fantastic opportunity or wish to receive a copy of the Position Description email the People and Culture team on [email protected] or call us on 6244 9444.
Or, If you wish to get straight to the point, please email your current Resume and Covering Letter to [email protected]
Applications close Thursday 23rd September 2021