Junior Resident on-site – Girls Boarding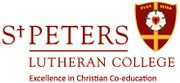 Job Location: Brisbane Western Suburbs & Ipswich
Employer: St Peters Lutheran College
Casual/Vacation
St Peters Lutheran College is an independent College with a mission of Excellence in Christian Co-education ensuring Every Child Learns, Every Day.
With 2500 Prep to Year 12 students across two Colleges and an iconic outdoor education centre, Ironbark; we ask our students and employees to embrace our motto of Plus Ultra' and contribute to Challenging Minds | Nurturing Hearts | Building Futures.
We are seeking applications for a Girls Boarding – Junior Resident to provide supervision and support for the students living in the Girls Boarding area.
Reporting to the Coordinator of Girls Boarding, this role will work alongside other residents to support the academic and pastoral care needs of boarding students from years 6-12. The successful candidate will live on-site, working 30 hours per week. 12 hours is in lieu of accommodation, with the possibility of additional casual work.
To be successful, we require:
Experience and a passion for working with teenage girls
Exceptional interpersonal skills and can show empathy and care when needed
The ability to work in an academic setting and assist with homework for grades 7-12
Enthusiasm about planning and engaging with students across a variety of different recreational activities
The ability to adapt and can adjust your approach to support a diverse group of students
Enjoy working as part of a collaborative team and communicate well with others
The ability to contribute to diverse and inclusive communities and accept the responsibility to uphold the Christian Ethos, including core values of care, dignity & respect
Availability to work some week ends (including Fridays evenings) (as well as throughout the week)
This is a wonderful opportunity to join a meaningful organisation and contribute to the Girls Boarding House. We are looking for someone to commence in this role in a casual during school term time.
Blue Card Legislation has changed effective 31 August 2020 and a ?No Card, No Start? policy is now in effect. This means that paid Employees must hold a current paid Blue Card / Exemption Card or be issued with a paid Blue Card / Exemption Card before they can commence work.
Candidates may wish to consider how their Blue Card status will affect their suitability for this position as a Blue Card / Exemption Card is an inherent requirement of the role prior to a start date.
For more information about these changes or to submit an application for a new or renewed Blue Card / Exemption Card, please go to the Blue Card Services website here.
To apply for this position, please submit your cover letter and resume via the link. If you have any questions, please contact Robyn Smit on 3377 6909