Graduate Exercise Physiologist – Kieser Ringwood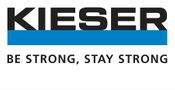 Location: Melbourne Eastern Suburbs
Company: Kieser
Part Time
Join Kieser – a unique, multidisciplinary, state of the art environment!
Combining exercise physiology, physiotherapy and exercise science in a clinical strength training facility, Kieser takes an active approach to the treatment of injuries and management of chronic disease.  
What we are looking for:
We are looking for a graduate to work part-time as an Exercise Physiologist at our busy clinic at Ringwood.   There is potential for this role to develop into full time in the future.
We want someone who is willing to work hard at building their caseload and creating strong relationships with local referrers and allied health providers as well as working alongside our two senior exercise physiologists with full caseloads.
We are looking for a vibrant person to join our team, someone who enjoys working one on one with varied clients, exercise prescription and working towards Team Goals. You will develop your skills and knowledge through internal and external PD and we expect you to demonstrate a high level of clinical reasoning.
At Kieser one of our core values is "Growing People, Growing Teams." As a growing company, we are also able to offer career advancement for those who operate at a high level, demonstrate initiative and leadership skills.
We really value strong cultures and a workplace that is fun, enjoyable and has plenty of social activities to keep our teams engaged!
Your role will involve:
Working with clients to assist in the management of a diverse range of chronic conditions, commonly osteoporosis, diabetes, parkinson's disease, MS, obesity, CVD
Running group classes for falls prevention, cardiovascular conditions and osteoporosis management
Performing clinical assessments and delivering evidence-based exercise programs
Establishing and assessing patient goals
Communicating client feedback to GPs and other health practitioners
Ongoing clinical mentoring and Professional Development
Smiling – we like friendly people!
View our website to find out more:
http://www.kieser.com.au
Our remuneration packages include a significant base salary as well as commissions. All of our exercise physiologists are employed on a permanent basis attracting all the standard benefits – no contractors here!
Apply today if you wish to work with a dynamic group of young, vibrant Physiotherapists, Exercise Physiologists and Exercise Scientists.
Please submit your CV with a covering letter to the following:
Rachel Pezzano, Director & Clinic Leader.