Full Time Warehouse Store Person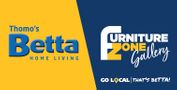 Job Location: Rockhampton & Capricorn Coast
Employer: Thomo's Betta Home Living
$55,000 – $64,999
Thomo's Betta Home Living has been servicing Central Queenslander's for the past 31 years. A trusted local destination retailing household electrical appliances and furniture, and a member of Australia's largest and fastest growing group of independent retailers. Our company is family owned and operated, where you will find a strong focus on our team culture and our continuous goals to offer an exceptional customer experience.
The successful applicant's role is to work full time as a part of our onsite/offsite warehouse and delivery team. The tasks involved with this are to handle incoming stock and despatch of goods with our customers and freight providers, also assisting in local deliveries to our customers homes with the setting up and installation of goods.
It is required that the applicant will have a focus on customer experience to tie in with our business culture and to be enthusiastic and attentive toward the job at hand. 
Experience is required in obtaining a forklift operators ticket, stock pickers ticket and also a requirement to hold a current open, manual LR Australian driver's license with no restrictions. 
If you are available for an immediate start, please apply as soon as possible.
Please submit your application via the Seek website or email your resume to the below details.
Applicants are encouraged and welcomed to provide a resume in person at our store location Shop 7, 415 Yaamba Road, Rockhampton, which will provide a great opportunity toward securing a formal interview for the position. 
Chris Thomasson (Manager)
07 4926 3199   –   [email protected]