Employment Consultant | Recruitment Partner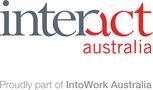 Location: Melbourne Northern Suburbs
Company: Interact Australia
$50,000 – $59,999 plus car
About Us
Interact Australia work to promote social inclusion, health and wellbeing by empowering people to achieve their full potential. As a values based not-for-profit organisation, we champion and support people with a disability in their choices, offering a range of person-centred supports, matched to meet unique circumstances and individual needs. Offering support services in NDIS and Disability Employment services (DES) across VIC, QLD, SA and TAS. We are looking for passionate individuals to join our supportive team in VIC based in our Hurstbridge Office.
Interact is proudly part of IntoWork a national group of  businesses, opening doors to apprenticeships, training, employment and support.
Working with Interact
Interact Australia value every employee by acknowledging and respecting their individuality, by inspiring action & change, and by creating connections to achieve social inclusion and equality. Benefits of working with us include:
Competitive remuneration package
Generous salary packaging options
Learning and Development opportunities
Employee Assistance Program
Career progression
About the role
As a dedicated employment consultant you will be focused on finding employment outcomes for participants within the Disability Employment Services (DES) program by identifying opportunities and securing placements. 
The key to your success in this role, will be building and maintaining effective relationships with local employers, pro-actively understanding their resourcing needs and successfully matching candidates to opportunities.  A solid understanding of person-centred case management principles including barrier management is core to your continued success. 
Your key responsibilities include, but are not limited to:
Build a pipeline of customers through active community engagement and networking
Business development activities to identify new and ongoing employment opportunities and to develop a strong understanding of the local labour market
Develop strong relationships with customers, both face to face and over the phone, to understand their placement potential and the actions needed to assist them to be job ready
Conduct customer appointments and guide customers through the process, identify barriers and devise appropriate management plans and pathways
Maintain progress reviews and identify next steps at each milestone
Meet your performance indicators by converting sales leads into placements
Deliver effective and timely communication and post placement care to both employers and customers
To be successful in this role, you will have:
Excellent customer and client interpersonal skills
Excellent verbal and written communication skills
An eagerness to learn and grow within the industry
Strong team player attributes
Ability to prioritise workload, use initiative and multi-task
Self-motivated and enthusiastic
High level of computer literacy
Australian Driver's Licence
We are wanting to hear from candidates who enjoy providing a positive customer and client experience, thrive in a target based environment, are motivated by exceeding their professional and personal goals and are looking for a career – not just a job.  If this sounds like you, then please do not hesitate to apply today.  
Please note: The successful candidate will be required to participate in an Australian Federal Police check, NDIS Quality and Safeguards Worker Screening and a Working with Children Check, prior to confirmation of appointment to the position.
The successful candidate will also be required to demonstrate entitlement to work in Australia, and to disclose any pre-existing injury or disease which may be adversely affected by undertaking the inherent requirements of the position.
For more information or to request a copy of the position description, please email [email protected]. To submit an application, please click "apply now".