Early Childhood Educators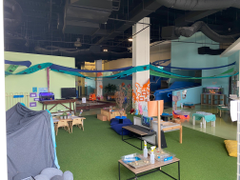 Job Location: Melbourne CBD & Inner Suburbs
Employer: Giraffe Early Learning Centre
$25 – $29.99 per hour
Exciting opportunity for Early Childhood Professionals to join a vibrant, creative, and dedicated Team of Educators at Giraffe Early Learning Centre Docklands
Giraffe Early Learning Centre has been operating out of the District Docklands since July 2016. Our beautifully designed 150 place centre has large spacious indoor environments with a fabulous outdoor area. This purpose-built Centre provides high quality care and an inclusive environment for all. 
We are committed to providing a workplace culture that is welcoming, diverse, supportive, and passionate about the children and families we support. 
Our primary objective for our Early Learning Community is to provide high-quality educational programs and safe environment for all children and their families in collaboration with a team of early childhood professionals. 
Our Educators contribute to supporting, preparing, and implementing an education and care program based on up-to-date knowledge and understanding of child development for children aged 0-5 years within the guidelines of the National Quality Framework. Our educators contribute ideas and observations to the program and incorporate family's feedback.
General Responsibilities:
Work under the guidelines and the requirements of the Education and Care Services National Law Act 2010, the Education and Care Services National Regulations 2011, NQS and ECA Code of Ethics
Positively contribute to the operation of the early childhood education and care program which includes supporting the children and families, and certain aspects of administration, in consultation with the Room Leader.
Recognise the rights and privileges of a child for special safeguards, legal or otherwise, to protect their wellbeing. Be familiar with Child Safe Standards, child protection protocols and procedures, undertake regular training and report to the Nominated Supervisor any suspected cases of child abuse or neglect.
Be aware of and assist with implementing the service's policies and procedures.
Be actively involved in the development and implementation of the services Quality Improvement Plan.
Attend and contribute to regular team meetings and staff meetings.
Other duties as directed.
Our programs include:
Early Years Program (Long Day Care)
Integrated 3- and 4-year-old Funded Kindergarten Programs
 Why work for us? 
Higher staff to child ratio than legislation
Professional development opportunities
Internal training e.g., sustainability practice, loose part play, etc.
Internal career growth
Easily accessible by public transport
Onsite Discounted Parking
4-day work week
Exceptional Team of Professionals who are welcoming, caring, and passionate about children.
Hands on and Supportive Leadership Team that respects and values staff
About you:
Bachelor of Early Childhood, Diploma or Cert III in Early Childhood Education and Care/Children's Services and looking for an inclusive and fun working environment
Current Employee Working with Children Check?
Current First Aid, Asthma Management and Anaphylaxis Certificates.
Understanding of the Early Years Learning Framework and National Quality Standards.
Participate in a lively culture of professional inquiry to support of continuous improvement.
Passion for working with children in 0-5 years old
Child Protection Training
We are also accepting applications from professionals who are studying towards your Early Childhood Qualification or looking to commence study towards an early childhood qualification?
How do I apply?
Send your resume with a cover letter explaining why we should consider you for a position at our service. If you would like further information or a position description, please contact Apryl or Amy at [email protected]
"We acknowledge the traditional custodians of this land and pay our respects to the elders past, present and future for they hold the memories, traditions and hope of Indigenous Australians."