Automotive Mechanic / Technician – Campbellfield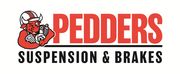 Job Location: Melbourne Northern Suburbs
Employer: Pedders Suspension & Brakes
Full time
Full time role working with quality Pedders products.
Industry leading training – product knowledge, technical skills and customer service.
Career progression opportunities and a passionate team environment.
Work Life Balance – No Weekend Work
Pedders is an Australian family owned and operated company with a long history and a strong future. Opportunities to become specialists, work with quality products and people, and obtain career progression are available to those who are passionate, committed, and willing to invest in their future.
We are seeking a qualified and experienced technician/mechanic to join our team at our Campbellfield store on a full time basis. 
The ideal candidate will have a mechanical background and strong front-office operations, customer service and administrative skills.
This opportunity will allow you to take the next step in your career, honing your skills as a specialist, whilst working with quality products and people.
Duties include:
Fault Diagnosis
Wheel alignment
General Repair of Suspension and Steering components
Brake Repairs
Moderate Electrical installations including towbars
Liaise with Customers
The right candidate will have:
A willingness to learn
Experience as a Mechanic and/or Brake Technician preferred
Experience in basic wheel alignment an advantage (not essential)
Attention to Detail
Full drivers' licence
Ability to work well in a team
If you believe you are the right person, we want to hear from you! Click on the APPLY NOW button to upload your resume. 
Please Note: In accordance with the COVID-19 Mandatory Vaccination (Workers) Directions, Pedders Suspension & Brakes are required to collect, record and hold vaccination information about its workers in order to determine whether they are permitted to work onsite. At Pedders all team members are required to work onsite, as such in order to proceed with your application we require you to provide us with evidence  of your vaccination status.